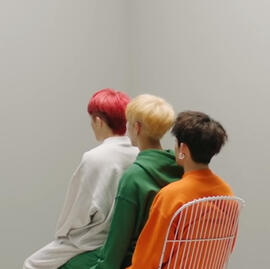 Change Up
---
Welcome to Change Up, the end-of-the-year fic fest for Seventeen! Whether you want to start something new or want to finish up that WIP (we're all haunted by them), we invite you to join us in some fic fun before the new year!With love,
Mods Froog 🐸, Shroom 🍄, Unicoorn 🦄
Rules
---
General
Submissions: the fest collection will be hosted on AO3 and writers will submit their work to be reviewed for appropriate tagging

Tagging: you will be required to tag all triggering and explicit content; failure to add the proper warnings could lead to the removal of the piece from the collection

Anonymity: we ask that all participants remain anonymous until after reveals; please refrain from public posting of hints, WIPs, or prompts of your submission prior to reveals

Word count: no min or max requirement
---
Writing
(this includes prompting and self-prompted works)

Main Character(s): must be from Seventeen, characters outside the group are permitted as the supporting cast

Banned topics: bestiality, dub/non-con, incest, pedophilia, sexual acts with minors (this includes aged-down characters)

Plagiarism: As writers, we draw a lot of inspo from various sources and it's important to give credit where it's due! However, blatant plagiarism of any media (regardless of whether it relates to Seventeen or not) will not be accepted into the collection
---
Code of Conduct
Please respect the other participants and the mods, harassment of any kind will not be tolerated (we're all here to have a good time!)

Please respect the rules as they are there to create a safe space for everyone (readers and writers!) to enjoy themselves

If you have any questions regarding the fest, please don't hesitate to reach out to the mods. We're happy to help!
Timeline
---
9/17
10/1
11/27
12/17
12/26
tbd
Prompting
Claims/Sign-Ups
Check-In
Submissions
Posting
Reveals
Dates may be subject to change; deadlines are in CST
---
Timeline Breakdown
Prompting: everyone is welcome to submit as many prompts or ideas for fics, each prompt will be reviewed before being posted to a prompt archive

Claims/sign-ups: prompts will be claimed by a first-come-first serve basis and each writer may only claim one prompt at a time (though you're welcome to claim another if you finish early), writers may also sign up to self prompt

Check in: writers will receive an email asking if they still plan on submitting for the fest

Submissions: writers will submit their finished fics to the AO3 for review, extensions will only be granted to those who ask prior to the submission deadline

Posting: fics will be posted in batches during posting week and are not posting in order of submission (so don't feel like you have to rush to finish early), please continue to stay anonymous during this time

Reveals: fic authors are revealed, anonymity period ends
Links
---
Reference Material
Socials